Our Fourfold Message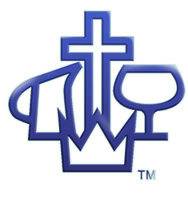 The cross, laver, pitcher and crown are the four symbols that join to illustrate the central theme in the Christian and Missionary Alliance, that is: Jesus Christ our Savior, Sanctifier, Healer and Coming King. The globe represents our mission in the world.
The Cross stands for the salvation made available to us through the death and resurrection of Jesus Christ.
"Salvation is found in no one else, for there is no other name under heaven given to men by which we must be saved." (Acts 4:12)
The Laver symbolizes sanctification, a daily cleansing from sin an the empowerment to live as God intends through the indwelling Christ.
"His divine power has given us everything we need for life and godliness through the knowledge of Him who is called us by His own glory and goodness." (2 Peter 1:3)
The Pitcher speaks of oil, a symbol of divine life and physical healing that come from Jesus.
"And prayer offered in faith will make the sick person well; the Lord will raise him up." (James 5:15)
The Crown symbolizes the return of Jesus Christ to the earth a King of Kings and Lord of Lords.
"You will see the Son of Man sitting on the right hand of the Mighty One and coming on the clouds of heaven." (Mark 14:62)
The Globe reminds us of our responsiblity and privilege to take the message of Christ's love to the whole world.
"And this gospel of the kingdom will be preached in the whole world as a testimony to all nations, and then the end will come." (Matthew 24:14)